Westlake Parents and Guardians:
It is hard to believe that the month of March starts this week!  I love the changing of Winter into Spring and the renewal and growth it brings.  As a school community there is much renewal and growth occurring on a daily basis as well.  Students have been working on building skills and are applying their learning.  This is such an exciting time of year with all that students' are learning and we are grateful to get to spend our days with your children!
School Safety
Please know that your child's safety while they are at school is of utmost importance to us.  As a reminder our doors are locked throughout the school day.  Visitors, parents, and guardians are required to ring the door bell and provide ID in order to enter the building.  Students, staff, and visitors are required to wear a school or district issued ID throughout the day.  If you have any questions or concerns around school safety please feel free to reach out to me by phone or e-mail. 720.972.5200 or rachel.e.heide@adams12.org.
During morning and afternoon pickup/drop off we've noticed some increased congestion on the East side of the building parking lot.  To alleviate some of the congestion please be sure to pull all the way through the loop to drop off/pickup or pull into a parking space.   Our buses have to use this area to enter the school bus loop and if cars are stopped waiting for pick-up of drop-off it can delay buses arriving on time and create a traffic jam near our school.  Thank you for your help on this issue to make it better for our community.
WLMS Color Fun Run!!
Please join us for the 1st Annual Color Fun Run in Honor of Devin Mack!
Date:  Friday, May 11, 2018
Time:  2:30-3:30pm
Registration:  Includes run entry and t-shirt
$20 (Early Bird) –

February 5th to March 5th

$25 –

March 6th – April 4th

$30 –

April 5th – May 9th

– no t-shirt guarantee
Sign up on-line through the Google form link below or complete the attached form with a check made out to "Westlake PTO" and turn in to the main office.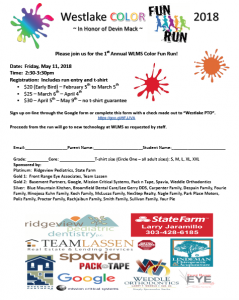 Coffee with the Principal
Join me this Tuesday at 9:30am for lively discussions about what is going on at Westlake Middle School.  There will be coffee and snacks and if there is time and interest we can visit a few classrooms to see the work in action.  If you have any questions please reach out to the school.
NJHS Service Fundraiser
The NJHS Club is running a fundraiser for the "Birthday Smiles" program, which is a program that gives the opportunity for a birthday to kids who don't have the opportunity to celebrate his/her birthday.  "Birthday Smiles" will put a smile on kids by setting up a birthday party for them.  We can't do this without your help, so NJHS has created a competition between the grades to raise money so we can make kids smile, and have an awesome birthday!  The grade that raises the most money, will win a prize!
There are three jugs one for each grade housed in the main office.

6th, 7th, and 8th grade will all be competing to get the most money, and at the end of the fundraiser, the grade whom raised the most money will get a prize!

Only bills will count towards your money, and coins will take away points from other grades. So, put coins in other grades' jugs!

For how much a bill is worth, that is how many points you will have.  If you have coins in your jugs, then they will take away points based on the total tallied number.

The prize is completely unknown, until the grade with the most money wins.  It would be a day of lunch outside, a pizza party an ice cream party, or could be something else.
Participating in this event, will not only help yourself, but your grade, and other children looking for a birthday to celebrate, so please take some time and effort to donate at least a dollar to this foundation!

For more information, please visit birthdaysmiles.org