Dear Westlake Parents and Guardians:
Monday, November, 12th, as a country we observe Veterans' Day.  As a parent myself, it is easy to forget the reason for this day off from work and school with all the various things we have going on.  As I imagine your families have some sort of military connections or perhaps you are an active or retired member of the military, my family has a legacy of military connection and I'm pausing today to consider those who have and do serve to protect our country.  As my eldest daughter considers the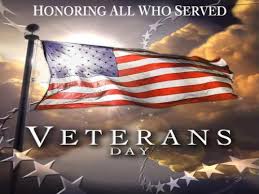 possibility of military service after high school this Veterans' Day takes on new meaning for me.  So, in typical Dr. Heide fashion I did some research on the history of Veterans' Day to gain a greater sense of what this day of honoring means in historical context.  I came across a short video from The History Channel that I thought I would share with you.  It is designed for middle school and high school so would be appropriate to share with your children if you would like to.
Bet You Didn't Know: Veterans' Day
Feedback on $15,000 Investment
Thanks to the generous support of school through the PTO Check Drive we have money above and beyond our goal to invest in Westlake!  As a school we have identified three areas of priority that we would like to use the $15,000 for and would like your feedback on these priorities.  Staff were asked to prioritize  ways to invest this money that impacted as many students as possible.  Below are the three priorities identified:
Water Bottle Filing Stations– our 2016 bond project will install 1-2 stations and this money would allow us do more
Classroom Furniture- this money would allow us to provide classrooms with flexible furniture options or additions that best meet the diverse needs of our students
Your feedback and insight on how to best invest this money is important.  Please take a moment to share your thoughts through this Google Form regarding the priorities we identified for the $15,000.
New Building Entry System
As part of our security upgrades to the building we have moved the AiPhone which is the "doorbell" you've used previously to gain access to the building into the foyer between the double doors.  Please see the video below to see how this new system works.  If you have any questions please feel free to reach out to us at the school.
Happy Thanksgiving!
Of the many things we are grateful for as a school community, we are most grateful for being given the opportunity to spend each day with your children.  Thank you for choosing Westlake for your children and for your partnership in shaping the next generation!  We hope you have a wonderful Thanksgiving and look forward to seeing you after the break.