Dear Westlake Parents and Guardians:
What an amazing year this has been!  Westlake students have worked so hard this year in gaining academic and social learning and I'm so proud of all they have accomplished!  There are so many highlights from this year from the amazing growth seen in musical performances from the beginning of the year to the end, exhibitions of knowledge at the Social Studies Celebration of Learning, daily interactions with students, and the list goes on and on.  Thank you for allowing us the opportunity to work with your children this year and be a part of their lives.  We look forward to our continued partnership into next year and hope you all have a wonderful summer!
End of Year Awards Events and Last Days of School Schedule (repeat)
Every year, our staff select students to receive awards for various demonstrations of success at Westlake.  The Awards Ceremonies for each of the grade levels are on the dates below:
Wednesday, May 22nd
8th Grade Awards Ceremony at 9am
No school for 6th and 7th graders; last day for 8th graders
Thursday, May 23rd
7th Grade Awards Ceremony at 8:45am
6th Grade Awards Ceremony at 11:00am
No School for 8th graders
More information about the awards ceremonies will be forthcoming.  Please feel free to reach out to us with any questions.  We hope you will plan to join us!
Summer School Closure and 2016 Bond Project Update (repeat)
Thanks to our voters, Westlake will be receiving the bulk of the 2016 Bond Project this summer!  The designs for various parts of the building look amazing and I'm so excited for you all to see the results!  Please take a moment to click on the link below to access a letter regarding the work we will be doing and building access during the summer months.
WLMS 2016 Bond Project Letter- English and Spanish
Back to School Bash!
The Adams 12 Five Star Schools is hosting a Back to School Bash so be sure to mark your calendars!  Checkout the fliers below: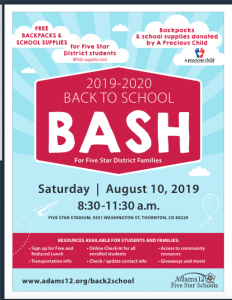 Upcoming Events
Click on each day to reveal the upcoming events.
Monday
Student/Staff Basketball Game @ 2:30pm
Drama Club cast party @ 3:45pm
Newspaper Club @ 3:45pm
Tuesday
6th Grade Picnic
7th Grade Field Day
8th Grade Field Trip- CANCELLED due to weather
Wednesday
Early Release Day
No School for 6th and 7th Grade
8th Grade Awards @ 9am
Thursday
No School for 8th Grade
7th Grade Awards @ 8:45am
6th Grade Awards @ 11am
Friday
Enjoy your Summer!  See you in August!