Week of 02.16.20
Dear Westlake Parents and Guardians:
This week is the official Random Acts of Kindness Week!  Schools, workplaces, homes, and communities can come together to "make kindness the norm."  Let's band together to in our school community with ideas around kindness during this week.  Click HERE for some inspiration.
JA Finance Park for WLMS 8th Graders March 9th, 10th and 13th Parent Volunteers Needed!
JA Finance Park is an experiential opportunity that all Adams 12 8thgraders participate in during the spring semester. We host the students at the American Furniture Warehouse in Thornton after they have completed lessons in the classroom that relate to personal financial literacy. What we do during the field trip is throw students into the middle of an adult life and ask them to financially survive a month of being an adult. This is accomplished by assigning students a random life scenario (spouse, kids, job, debt) on an tablet. The tablet walks them through paying taxes, setting up a budget and making shopping choices while trying to stick to that budget.
The volunteers role is to assist and answer questions about why adults make certain decisions, what is a need versus a want, and why making a budget – AND sticking to it – is so important. The volunteer is trained prior to student arrival so there is no prep work and the only background knowledge they would need is the life skills we as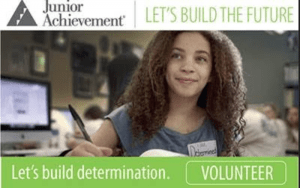 adults may have had to learn the hard way: bill paying, credit card debt, making good shopping choices, etc.. This is a great opportunity to open the door to financial discussions with your student and helping them make better financial decisions early enough to make a difference (love that compound interest!).
Click HERE for a flyer with more info.
Click HERE if you're ready to volunteer!
Your Pie Dine-out Coming Soon!
Save the Date:  Our last Westlake Dine-Out night of the year will be at Your Pie on Tuesday, February 25 from 5-9pm.  No need to show a flyer or mention Westlake – 15% of all sales that night will go to our school.  Your Pie is located at 14342 Lincoln St, Thornton, CO, 80023.  Hope to see you there!
Book Adoption for 8th Grade
8th grade language arts teachers are looking to get The List board approved for the middle school level. The List, by Patricia Forde, received a notable award from the American Library Association.
The List is about a dystopian novel exploring both our treatment of the environment and our use of language. After a second great flood, Noa establishes a community called Ark. Noa believes language is the root of all evil and restricts Ark residents to 500 words. Letta, the protagonist, is the wordsmith's apprentice. Letta's journey forces her to question Noa's teachings as she encounters people from other communities who live, speak, and believe contrary to what Noa teaches.
8th grade language arts teachers would like to use this book to help students study themes rendered new, symbols, and motifs. 8th grade students will write a literary analysis of The List as a culminating assessment of our fourth unit of study.
The book is available in the Westlake main office for community members to view.
Upcoming Events and Activities
Click on each day to reveal the upcoming events.
Monday
No School- President's Day
Tuesday
Mandarin Club @ 7:45pm
Intramural Flag Football@ 3:45pm
Math Counts @ 3:45pm
Wednesday
Early Release Day
7th Grade Jazz Band @ 7:30am
Intramural Flag Football @ 7:45am
Pokeman Club @ 7:30am
Art Club 7:45am
Battle of the Books @ Lunch Time
Thursday
Creative Writing Club @ 7:30am
GSA @ 3:45pm
NJHS @ 3:45pm
Disc Golf Club @ 3:45pm
8th Grade Orchestra joins Legacy Orchestra @ 6:30pm Legacy High School
Friday
8th Grade Jazz Band @ 7:30am
Student of the Month Breakfast @ 7:30am
Drama Club/Theatre Tech Club @ 3:45pm
Saturday School tomorrow 8am-11am